About Francis G. (Frank) Mandarano
Your Car Guy Tour Guide!
Car Guy Since Age 12
Decorated Veteran
Licensed Commercial Pilot – Rated in Floats and Twins
Founder of Maserati Club International and MIE Corporation
Founder of Concorso Italiano
Founder of the original and one and only Car Guy Tour
Still a Car Guy at 72 and loving it!
Where to begin?
Frank, like a lot of you, became interested in cars and all things mechanical at a young age. In 1958, at age 12, he was already building model cars and airplanes and reading hot rod magazines. His favorites were Car Craft, Hot Rod, Rod and Kustom and many others.

His first car at age 16 was a '47 Ford convertible that was immediately supped up with reversed wheels, white side wall tires and three 97s. The flathead was eventually replaced with a small block 283 with the obligatory "Corvette" valve covers. The engine was mated (via an adapter) to the stock "three on the tree" trans which later gave way to the 39 Ford floor shifter.

Those were the "Happy Days" back in Bellingham, when Frank could be found out in the garage late at night with the Ford jacked up in the rear, while he and his friend Hank replaced another broken transmission. (Okay, technically they both should have been doing their homework.) The 47 Ford was eventually replaced with a '56 Ford and then a '55 Chevy.


It was off to Vietnam after high school. After his tour of duty, he arrived in San Francisco, looked in the classifieds, went out and bought a red '61 Corvette Fuelie, jumped in and drove back to Bellingham Washington.

Frank is very proud to be a fourth generation Washingtonian, whose great grandparents emigrated from Italy in 1901. Frank served in the US Army from 1966 to 1968.

Due to his high mechanical aptitude, he was trained in multi-engine, gas turbine, multi-rotor, heavy lift helicopters, as well as single engine gas turbine UH1B "Huey" Gun Ships.

In the war zone he advanced quickly and was soon assigned his own "ship" with the tail number 009. As a Helicopter Flight Engineer, Frank was authorized to make any repair to the "ship" in the field to make it fly.

Twice decorated for heroism, he received the Cross of Gallantry from the Vietnamese Government and Air Medal with "V" devise for valor while participating in aerial flight. Those were exiting times for a young 19 year old from Bellingham.

On May 31st 1968 Frank received an honorable discharge from the Army and settled in Seattle and moved into a singles apartment complex and began the "summer of Frank" He wanted a job that provided a company car and where he could wear a coat and tie.

He had lined up a job selling cars at a Chevrolet Dealership which provided a new 1969 Camaro Z28 ordered specially for him.

He enrolled in flight school at Boeing Field in order to fulfill the goal of becoming a commercial rated pilot. He became a private pilot and went on to earn a commercial pilot license, with float and twin engine ratings. His hopes of being a commercial pilot were dashed when an old 30,000 hour pilot told him, "Frank, Pilots are like piano players. There are a lot of them, but very few make money at it."

Frank then ventured into selling real estate, and at the age of 24 purchased the old Fremont Hotel (the left bank equivalent of Seattle), where upon he set out to transform not only the building but the neighborhood along with it.

He didn't make the cover of the Rolling Stone but he did warrant a full page article. (See "Un-hassled Times at the Fremont Hotel," by Erik Lacitas. Rolling Stone Magazine Feb 21st. 1970, Page 12.)

It was during this period (1971) that Frank, now 25 years old, first ventured to Modena, Italy. While there, to his amazement, he toured the Ferrari and Maserati Factories–both in the same day. He recalls being shown the first Bora Prototype, which he describes as 'a mild religious experience'. At that moment, the young "Car Guy" became a Maserati enthusiast of the first order. Little did Frank know at that time that he would return to Modena over 50 times in the next 40 years and the road map to his future had been cast.

Was it destiny that brought him to Modena? Over the next 30 years, Frank would own–and put thousands of miles on–literally every Maserati GT car.



In Feb 1976, Frank together with his future wife and business partner Janet, they founded the Maserati Club International on the kitchen table. Starting the club was the result of not being able to find parts after his newly purchased Maserati 3500 GTI "broke" on the second day of ownership.

The Club grew to become the world's largest Maserati club with over 3500 members from 39 countries. The Club newsletter eventually grew into the full color premier Maserati Magazine, Viale Ciro Menotti (VCM). Frank and Janet authored of over 250 articles on a wide range of Maserati subjects, from highly technical fuel injection tuning tips to research on various rare and highly valuable Maserati "works of art." Along the way, Frank, by now a professional photographer, amassed one of the world's largest archives of Maserati photographs. Many images are of cover quality in medium format color positive form. Thousands of photographs in the archive are carefully indexed and cross referenced and much of his photography was featured in VCM.
Companies Founded by the Mandaranos
1978 – 1989 MIE Corp. The Mandarano's established the MIE Corp. as an exclusive Maserati service and restoration company. MIE employed 4 mechanics, 3 trimmers, 1 sheet metal man, 1 body man and a part time painter, in addition to 4 parts guys.
Over the next 11 years, MIE restored, and/or performed major service on, over 500 Maserati GT Cars sent from all over North America and overseas. MIE's parts inventory grew to over 8 million dollars in new/used Maserati parts. In 1994, Frank & Janet bought out Alejandro De Tomaso owner of Maserati in the USA.
MIE purchased the complete inventory, fixtures and equipment of Maserati Automobiles Inc. (the USA Factory distributor) for one million dollars.
1978 MIE Bindery. The Mandarano's founded MIE Bindery, a full service printing and bindery company equipped with Heidelberg offset and windmill letter presses, as well as a Didde-Glaser web press. Running two shifts, the company was eventually sold to their largest customer.
1986 Concorso Italiano. The Mandarano's founded the highly acclaimed Concorso Italiano which began with 50 Maseratis and, with their vision, grew to over 800 Italian cars, 10,000 attendees, high-profile global corporate sponsors, legendary Italian automotive personalities and an award winning event program. The Concorso Italiano became one of the official three big events of the Monterey/Pebble Beach weekend.
1998 Car Guy Tour. The Mandarano's established the Car Guy Tour, a hobby business that introduces Americans to the Italian culture, Italian automotive design, restoration, and manufacturing industry. After years of annual pilgrimages, Frank had the thought that while he was in Modena every year – surrounded by the best of the Italian automotive world and enjoying every moment of it – why not invite others and share with them this incredible opportunity to experience "up close and personal" the making of (design and manufacturer) Italian high-performance automotive machinery. There is nothing else like it in the world! Hence, the Car Guy Tour was born.
After 2002, Frank and Janet sold their interest in the Maserati business and in 2004 sold the Concorso Italiano but held onto their real-estate holdings , which now included warehousing, a Medical Building and upscale rental homes.
In 2005, the Mandarano's rented a fabulous apartment well positioned on the Arno in the center of Firenze, for 5 months in order to fulfill one of their life long dreams of actually living in Italy. Their then 15 year old son, Antonio, attended a semester at the International School of Florence.
The Car Guy Tour continues to be a fun and rewarding way of introducing fellow enthusiasts to Italy and, hopefully, provides them the opportunity to experience the magic that Frank experienced on his first visit to Modena back in 1971.
2002
After selling MIE in 2002 Frank focused on Concorso Italiano, which by then had become a world-class event with thousands of spectators, hundreds of Italian cars, major sponsors and over 125 vendors.
2004
One day they received an offer that they couldn't refuse and decided hey, why not?  So Frank and Janet sold CI. The deal closed on Feb 24th 2004.
2005
Then in September of 2005, Janet and Frank along with their then 14-year-old son Tony moved to Florence, Italy for 6 months, something they had always dreamed of doing.  They rented a beautiful apartment on the Arno river, 15 minutes walking to the center. Tony enrolled in the International School of Florence and Janet and I got to know the city. They must have gone to the Pitti Palace 5 times.  They took mini trips to Rome, Napoli, Pompei, Capri and many other places we had not gone before.
It was during this time in Italy on a trip to Modena they discovered some of the greatest balsamic glaze in the world.  After returning to Mercer Island,  Janet had a label designed and began importing and selling the Glaze under the Mandarano brand. Six years later they are in 26 locations and are very happy with the internet sales. Check it out at: www.balsamicsauce.com
June 2007 Boeing
After returning from Italy, Frank concluded an agreement to represent Italdesign, Pininfarina and Zagato here in the USA on the industrial design side of the business and subsequently completed an agreement with Boeing, designing and producing a few hundred seats. An RFP (request for proposal) was sent out and Pininfarina Extra won the bid.  They did such a great job Boeing put us on their preferred vendor list and placed a second order. The Pininfarina seat program actually won an aviation industry award equivalent to something like the Oscars in the entertainment industry.
2008
In Jan 2008 Frank ventured off to Buenos Aires to check it out. He rented an apartment on Quintana Ave in Recoleta for 4 weeks and went about meeting all the car guys he could find - and there are a lot of them. He enjoyed it so much that in November of 2009, he returned with Janet for 5 weeks and did a Car Guy Tour to Argentina (Buenos Aires.)
Those were really fun days for them.  They took the same apartment on Quintana Ave and enjoyed the local scene.  They took tango lessons twice a week, attended the world Polo playoffs and took in some horse racing.  Buenos Aires is a great city with no lack of things to do and see.  Did you know it is 51% Italian heritage? There are also a lot of car guys down there.
2009 Winter in the Sun
After Tony went off to college (University of San Diego) Frank and Janet decided to winter in Palm Desert, California and get away from the rainy overcast winters in Seattle.  They bought a home a couple blocks from the trendy El Paseo shopping street and have enjoyed it more each time they return.  2009 was also the year that Frank returned to Concorso Italiano as a consultant.  It has been very gratifying for him to see the Concorso Italiano return to its former glory after the disastrous Marina Airport fiasco under the previous owner.
Moving on, well, for sure retirement is not part of who he is.  Frank has kept engaged in several new ventures and is always open for new ones.   His primary job is that of a property manager and landlord. He has been buying, owning and managing  real-estate since he bought the Freemont Hotel when he was 24 years old.
Classic Maseratis are still very much a part of his life. His daily driver a Mercedes S500 sedan. He also enjoys his 300cc Vespa both in the desert and on Mercer Island.  Motorcycles have always been a part of Franks life and he currently rides a Kawasaki W650 which is an exact knock off of a 1967 Triumph Bonneville.
2010
In Oct 2010 he bought a lovely early roll up window 3500GT #708 and fell in love all over again.
Then again on Dec 16th 2011 he bought his second 3500GT #686 and on April 2nd 2012 bought his 3rd. 3500GT #916 for a total of three of them.  "I enjoy working on these cars and bringing them back to the way they were when they left the factory" says Frank.
In May of 2013 he bought his 4th 3500GT number 2818 a very late car and another California barn find.
2013
In August 2013 Frank and Janet bought a medical building in Mill Creek.  The deal closed in Sept.
The 2013 Car Guy Tour was fully sold out and Tony again joined his dad. Tony was a big help and they were very lucky to be able to spend such quality time together.
After the Tour Frank drove up to Germany to the ZF factory to deliver two Maserati transmissions for repair.  He then headed over to the Burgundy region of France to visit his friends at the Olivier LaFlaive Vineyard and stay at the LaFlaive Hotel. It was a great experience which was repeated in Sept 2014, this time which his wife Janet.
They stayed there for 4 nights and had fun day tripping around the region enjoying the great vineyards and little villages.
In the fall of 2013 Frank and Janet again headed south to their home in Palm Desert and they began remodeling the back yard and pool area. Frank designed a 16 X 35' cantilevered canopy that hovers over the back yard patio. A massive steel structure, fully engineered, which contains 3 skylights 2 fans and 12 night lights on dimmers.
The complete patio area and pool copping was poured with beautiful flat work which included new lawn and Astroturf. Tropical plants were planted everywhere for that Hawaiian feeling. With the pool heated to 86 degrees there is no better place to hang out than in that back yard.
Frank then began work on the 3500GT #916. The engine was removed and the car was disassembled and painted a beautiful Carbon Grey, the interior was trimmed in black leather with rust color carpets and a new headliner.  The engine was serviced, the front and rear seals replaced and the Webber's rebuilt with new shafts. The car is now finished and running really great. The second 3500GT # 686 "The Latina" is now finished as well and was the subject of a superb 6 min video done by Petrolicious.com.
In 2013 Frank helped the Concorso Italiano establish a new show (The Desert Concorso) in Palm Desert at the Shadow Mountain Resort. The show was held on March 30th 2013 and was a very big hit with those attending. There were 180 really nice cars in attendance.
The Sept 2014 Car Guy Tour sold out in the middle of April.
As it starts to get very hot here in the desert they are already looking forward to returning to Mercer Island.
Moving forward it is hard to say what we will be doing but what ever it is, it will be fun, something we enjoy, and above all, on our terms and our time schedule.
2015
The lovely "Latina" 3500GT #686  found a new home in Cologne Germany.  Then in Oct I purchased a beautiful Maserati 3500GT Vignale Spyder. The purchase included the seller taking in trade my 3500GTI #2818.
The new convertible rounded out our collection which now included 3 3500GT's. One Vignale Spyder and two 3500 early GT coupes.
In November of this year we again loaded up the Range Rover and pulling our small 10ft enclosed trailer along with our two Westies headed south to Palm Desert. This was our 7th season in the Desert and we are loving  it more each time we arrive.  It's all about the sun!
Ed Pink Racing Engines of Van Nuys CA.  finished the rebuild of the engine for 101.916 and it is magnificent! Jimmy installed it and the car now sits in our garage on Joshua Tree St.
I concluded my consulting agreement with Concorso Italiano this year, after 7 years. This is the event that Janet and I founded in 1986.  I still remain in touch with them and help them out from time to time with VIP's from Italy and I enjoy doing that.
The Sept 2015 Car Guy Tour filled up early and was a great success with a great group of people.  I am so lucky to have this hobby business which keeps me connected to my Italian friends. People always ask me if I'm retired and my answer is always the same "it's not in my DNA."
For this years Tour I flew into and out of Frankfurt, which gave me the opportunity to spend some time in Germany after the Tour.
My friend Leo Peschl from Cologne drove down to Modena where we met up and visited several guys in and around Modena and then off to Cologne where I rented a car at the Airport and drove to Paderborn to visit Maserati friends and to visit with several other Maserati guys in the area.  I then drove up to Netherlands to visit The Gallery Showroom and stayed in the wonderful 5 star Hotel Castle ENGELENBURG in Brummen, Netherlands.  It was so nice I booked it for 3 nights.
2016 rolled in with the presidential elections in full on.  We thought about a kitchen remodel in our winter home but put it off for another year.
In May it began to get hot with days averaging over 95 degrees so we packed up the Range Rover and Trailer and headed north to Washington where we spent the summer at our home on Mercer Island.  It's always good to be home for the summer in Seattle and we always say "why do we leave" then November rolls around with the wind and rain and we look at each other say "time to head south."
2017 turned out to be a "Black Swan" year.
November 2017 arrived with the winds and rain so it was time to pack up and head south to Palm Desert.  I shipped the Vignale Spyder down so I could use it, and do a little tuning during the winter months.
I sent the bumper and grill out to be re chromed and had all the rear suspension bushing replaced along with new OEM RIV shocks.
I sent the speedometer out to be cleaned and serviced and resealed the transmission.  The car is working very well
Feb Landslide
First off it was the wettest winter on record, with  rain rain rain, non stop rain. Our home of the last 30+ years sits on a bluff with southern exposure and a panoramic view of the lake Washington and Mount Rainier, which is the good news.  The bad news is that due to the heavy rains there was a land slide in our back yard which affected us and our neighbor to the East of us and our neighbors below us.
Fortunately 35 years ago a 70 foot Soldier Pile Wall was installed at great expense and this wall did its job and saved out home.
The Geo Engineers recommended that we "pin" our home with 37 Push Piers, and 23 tie backs. This as you could imagine, was a totally unexpected expense.  Thank God we had the resources to take care of it, and with NO help from the insurance company.
In March 2017 I had the Vignale Spyder re leathered and re carpeted.  It turned out fantastic! I used the original color combination leather and carpet that the car was delivered with from the factory.
At the end of April I took the Vignale Spyder on a 810 mile road tour.
I entered it in "The Drive Toward a Cure" which is a Parkinson's fund raiser.
The car ran like a humming bird, never missed a beat.  Together with my co-driver Sam Morabito we drove from Palm Desert to LA, stayed over night in Beverly Hills, then met the group at the Petersen Museum on Friday early AM.
We departed the Petersen for Santa Monica up the beautiful Pacific Coast Highway to  Santa Barbra and then on to Paso Robles.  On Sat there was a great drive through the country side and Sunday we returned home back to the Desert.
Like I said 810 miles.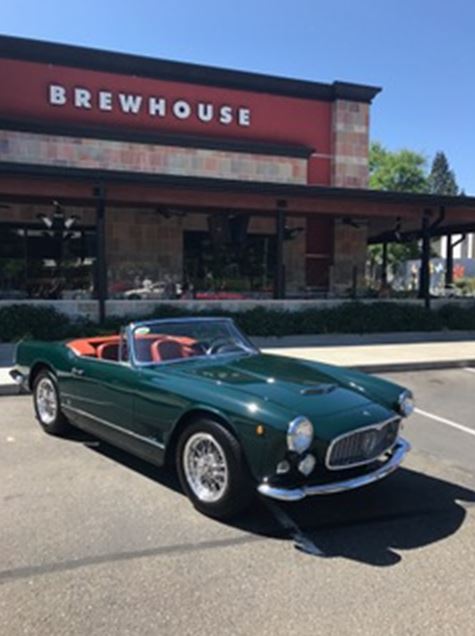 The middle of May rolled around along with 97 degree heat and it was time to pack up and head back to Mercer Island for the summer.  Both Maseratis were shipped back so they can be used during those great summer days in the North West.
August 24th 2017 Janet and I departed to Milano for the 25th annual Car Guy Tour. We went directly to Como and checked into our favorite hotel the Metropolesuisse. After a couple days in Como we headed off to Torino and then onto Modena seeing all the guys and clearing the way for the 30 Trip –Mates that would be arriving in a few days . The first Tour kicked off on Sept 1st and included the Monza F1 races.  The 2nd Tour hosted by the FCA started on Sept 17th and ended on Sept 28th.  Both Tours included a lot of fun people which makes it all worth while.  The Tour was founded in 1998, so we will celebrate our 20th anniversary next year (2018).
Dec 2017
Our 2004 Range Rover that we bought new had been driven to its end of life with close to 170,000 miles on the clock, we were ready for a new one.
So in December we bought a new 2014 Range Rover Autobiography. Equipped with a Supercharged V8 with 510HP and full of options.
A beautiful Black truck, with red leather, and only 12,000 miles.
Jan 2018
Christmas came and went and with the new Range Rover sitting under our Christmas Tree we launched into 2018 with good cheer.
Soon it was mid January and it was off to Scottsdale for the annual circus of Auctions and 4 days of hitting all of them, seeing old friends and making new ones.
Heart Tune Up
In March 2018  I was feeling a little pressure in my throat while on my morning walk on El Paseo. So being proactive I called our concierge Internist doctor and scheduled an appointment for some test.
He scheduled me for an angiogram.  I went in at 7:00AM and was back home at 4:00PM. I spent 45 minutes in the operating room where a blockage was discovered and a single stent was installed.
By 9:30AM I was back in the recovery room having a snack and drink and was ready to leave by noon.
All other arteries were clear and in good shape.
This gave me a new extended view of my life going forward.
I highly recommend that anyone over 60 years old and especially if you have a family history of heart problems to get an Angiogram.  It is the gold standard and the only true method to know the condition of the blood flow in your heart.
Back to Seattle & the Spa
All to soon May arrived and in Palm Desert the temperature began to rise into the mid to high 90's so it was time for these two snow birds to pack up and head back to lovely Mercer Island WA.
Before we departed we signed a contract with Stoker Pools to install a hot tub (SPA) onto the end of our pool.  The job was completed during the summer months and was waiting for us in November upon our return.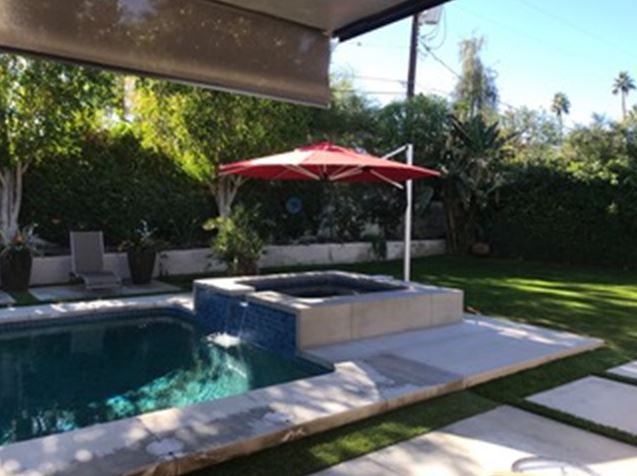 Beautiful June July & August
Something like 59 days of sunshine covered the Northwest this summer and when the sun's out in Seattle, its like Hawaii.
In June my good friend Colin Craig and I drove my Maserati Vignale Spyder 1150 miles in 5 days together with 20 other cars on a Tour to South west Washington up to Coeur d' Alene, Id and onto Montana and back through Priest lake and Winthrop, over the mountains and back to Mercer Island. The car ran great all the way with the top down.
To read the complete Road Trip story with photos click here.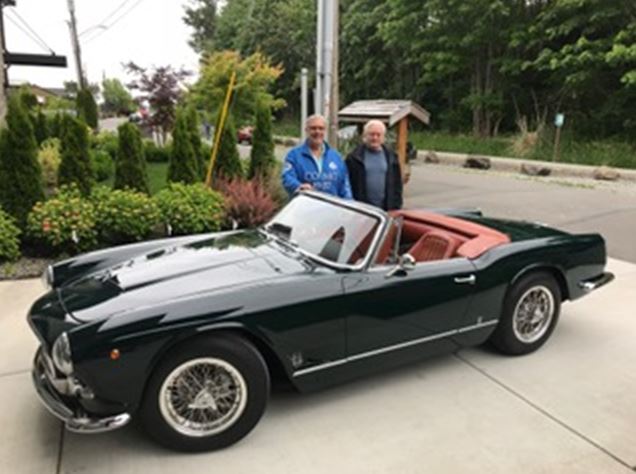 In late July I sold my two Maserati 3500GT coupes # 708 and #916.
In their place came a beautiful 1972 Ferrari Daytona Spyder.  I now consider myself as having the best of both worlds – A Maserati Vignale Spyder and a Ferrari Daytona Spyder.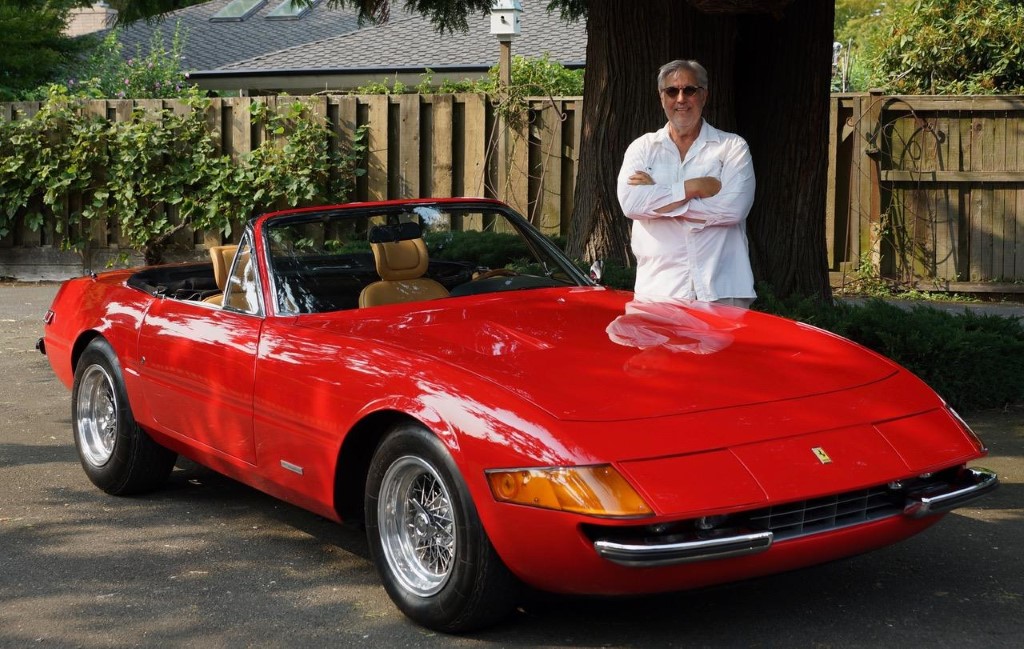 Italy in Sept 2018
Janet and I departed for Milano via Toronto on the 787 Dreamliner in late August and arrived in Lake Como, one of our favorite places.
The 2018 Monza Car Guy Tour started on Sept 1st and concluded on Sept 12th.  We then took 3 days off before the FCA group arrived on Sunday  Sept 16th and departed on Thurs. the 27th.
I then flew to Berlin for the Maserati International Rally where the cars were gathered at Potsdam. I loved Berlin a place I had never been before.  I rented a car and drove back through Germany at the fastest speed the car would go, ie 188 klm flat out down hill.   I spent the night in several little German Towns and onto Trento and Verona where I discovered a great little hotel - Hotel San Luca - Room 303.
Arriving home on Oct 7th it was time to start thinking about some tuning on my new Daytona Spyder and heading out to Palm Desert
Returning to Palm Desert
Mid November came alone with the wind and rain in Seattle so it was time to pack up the 10 enclosed trailer and head South to the Desert.
We were welcomed by a great hot tub spa and a return to our modest yet very comfortable mid century home.  The Ferrari arrived together with our Audi A8L and it's like we never left.
To be continued...